Peace World. Mark your calendars, folks! I won't be apart of this year's line up but I DEFINITELY will be in attendance. Whether you're a fan of Dilla or you're still not not hip to one of the gretest producers ever, this is an amazing event, filled with some of the best talent the DC area has to offer paying homage to the late great to raise money for a great cause.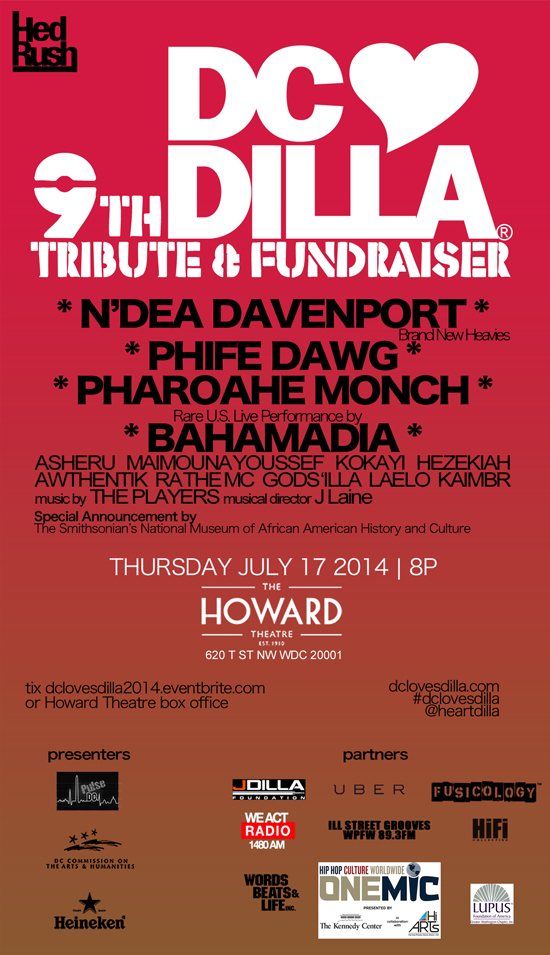 Join us for our annual celebration of James "J Dilla/Jay Dee" Yancey. One of THE Best Music Producers to EVER Do It. Check the Lineup and look forward to more greatness. And of course, the tribute raises funds for the Dilla and Lupus Foundations. See ya July 17th.   One Love.
9th Annual DC Loves Dilla
Headliners:
Phife Dawg (ATCQ), N'Dea Davenport (The Brand New Heavies), Bahamadia & Pharaohe Monch
Feat:  Kokayi, RA the MC, Maimouna, Awthentik, Laelo, Kaimbr, Gods'Illa, Asheru & Hezekiah.
Thursday July 17th
The Howard Theatre
8:00pm
Tix: $30
VIP: $50 & up
Get tix here: bit.ly/DCLovesDillaTix
Press/Media inquiries : press@hedrushmusic.com